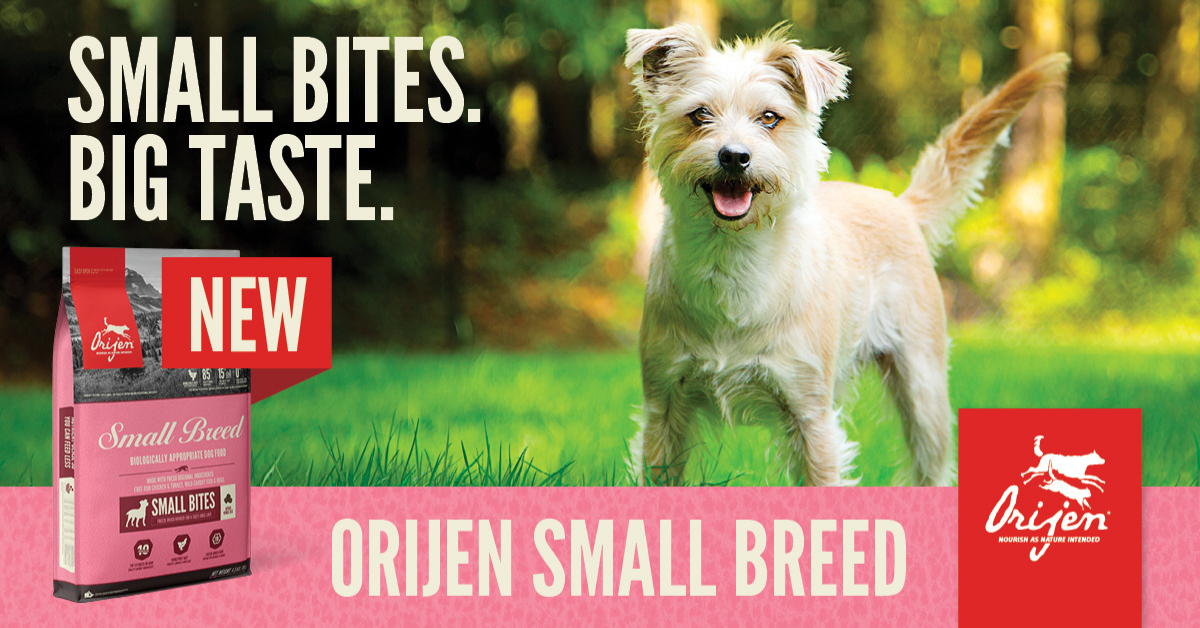 Delivering big taste in small bites!
 ORIJEN launches Small Breed, a dog food designed especially for smaller breeds that is loaded with 85% quality animal ingredients in a small, freeze-dried infused, tasty kibble.
Formulated to entirely nourish small dogs, ORIJEN Small Breed:
Meets high-energy needs: protein-rich to support higher energy needs and nutritionally balanced to help maintain a healthy weight.
Provides total system support: specially formulated to support your dog's immune system and joint mobility for active living and healthy ageing
Promotes healthy skin and coat: nutrient-rich with properly balanced Omega-3 and Omega-6 fatty acids to promote healthy skin and a shiny coat.
ORIJEN Small Breed is loaded with 85% quality animal ingredients: free-run chicken and turkey, wild-caught fish and quail, in WholePrey ratios. The top 10 ingredients on the bag are fresh or raw, comprising 2/3 of the animal ingredients.
Colin Rodger, Managing Director of Bern Pets Foods, the exclusive importers and distributors of ORIJEN into UK and Ireland, says: "ORIJEN Small Breed contains all the quality you would expect from ORIJEN, formulated to nourish small breeds completely. The freeze-dried infused kibble is smaller, making it easy to eat for little mouths, with a taste that dogs love"
ORIJEN Small Breed is suitable for all life stages and available in two sizes: 1.8kg and 4.5kg.