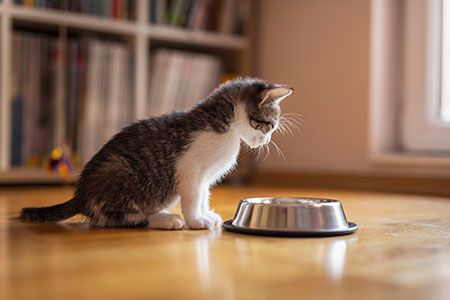 Feed your kitten the right food to support their growth and development…
Kittens need energy. As they explore their surroundings, they're constantly burning calories. That means they need food which provides them with a good source of energy, whilst at the same time helping their muscles to grow at a rate that doesn't put too much strain on their young bones. A good kitten food will be rich in animal proteins to fuel that growth and be high in calories to keep them energetic.
Your growing cat also needs the correct balance of calcium for strong bones, as well as fatty acids to support their organs: meat that comes from a variety of animals and includes muscle, bone and organs will provide those nutrients.
With 85% quality meat ingredients and 15% fruits and vegetables, ORIJEN Cat & Kitten nourishes kittens with free-run chicken, turkey, cage-free eggs and wild-caught fish.
ALL ORIJEN's cat foods, with the exception of ORIJEN Fit & Trim Cat, are suitable for kittens, find out more here.
If you have any nutritional questions, please do get in touch with us at Sales@BernPetFoods.co.uk or call 01737 767679.